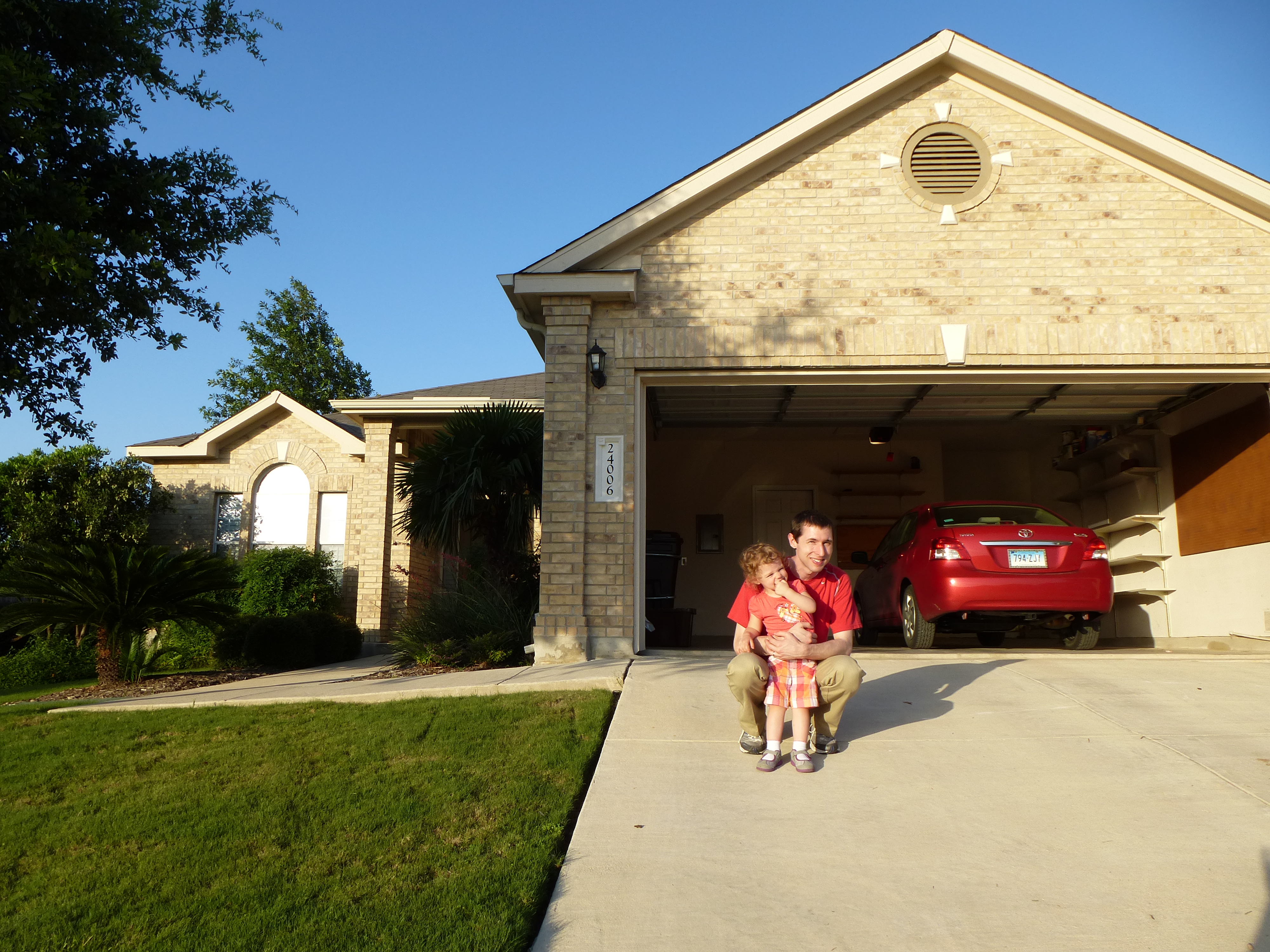 Becca and I finally bought a house! We've moved to San Antonio in the far north central area last Tuesday, in the Bulverde Village subdivision.
We think the location is phenomenal: 15 minutes from the San Antonio temple, 2 minutes to a Super Target, 15 minutes to church, 20 minutes to a major airport, 15 minutes to two different malls, and to top it all off we are on the end of a nice cul-de-sac far away from noisy traffic. It is going to be a dramatic upgrade from our noisy, cramped city living lifestyle in New Haven.
We love our home! It is brick on all sides, has lots of grass (0.29 acre lot), large closets in all the bedrooms, and a spacious kitchen. Anna loves having her own bedroom and bathroom (technically the shared guest bath). The yard needs some work but has been maintained enough that we have had a blast running around in it, blowing bubbles, weeding together, watering the plants together, and just generally having fun.
I woke up early the other day and took my new push reel mower for a spin in the backyard. There was something superbly satisfying about getting some early morning exercise while taking care of my home. I had considered hiring someone to care for my lawn, but the weather is so beautiful in the mornings and evenings that I think I'll just handle it on my own.
I've still got a pile of work to do on the house though. The front door is warped and probably needs replaced. I don't think I want to tackle that on my own so we'll probably pay to get that fixed. The light switches are the old little switch style. I prefer the decorator style paddle switches, so I've slowly been swapping those out. I'm also going to swap out the outlets in Anna's room with tamper resistant ones for a little extra safety. I'd love to paint the walls in the garage. And there is a list a mile long of other little things I'd like to do over the next few months.
Cost of living in San Antonio is drastically lower than in New Haven. We cut our car insurance bill in half without lowering our coverage. Gas is 45 cents cheaper per gallon. Electricity is practically free compared to New Haven.
Anyways, we are so excited to be in Texas!